Get a spot in The National Startup Competition 2023 - A KU startup event.
Are you ready to take your startup to the next level and compete on a national stage?​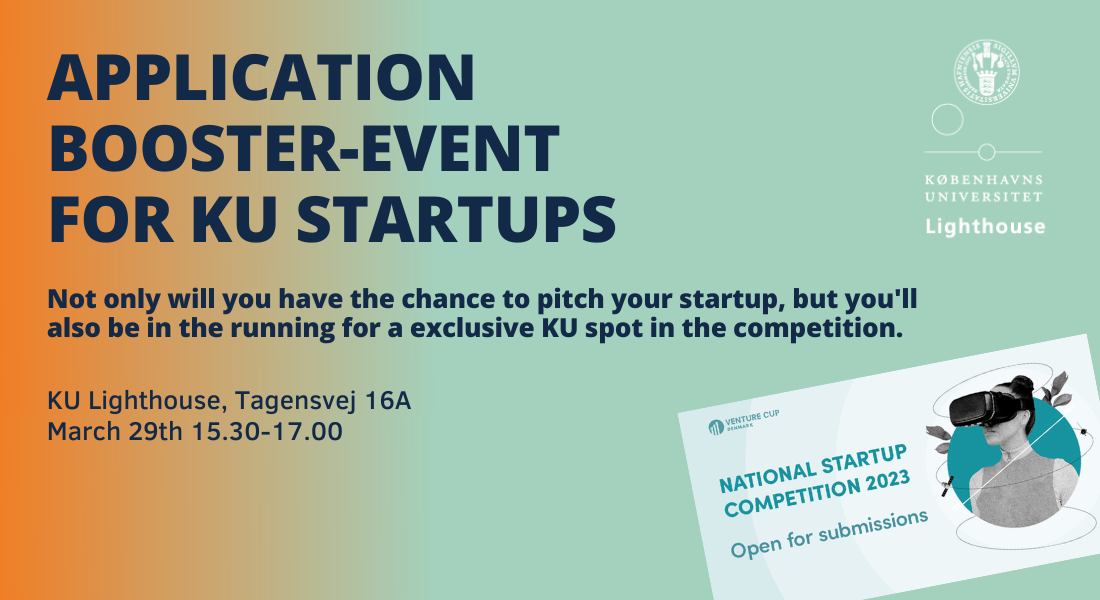 Join us at KU Lighthouse on March 29th for our exclusive application booster event, where we'll give you the tools and resources you need to perfect your submission for the Venture Cup National Startup Competition 2023. ​
Not only will you have the opportunity to pitch your startup, but you'll also be in the running for a coveted spot in the competition. Don't miss out on this chance to elevate your business to the next level. Apply now!
​​Requirements to participate​
The most important requirements to participate in the booster event are the following:​
You must have one founder/co-founder who is a student, faculty 

member, or recent graduate (within 2 years from graduation) at KU.

​

You must not be receiving grant money from 

the 

Innofounder

 program. If you are in the process of applying 

for 

Innofounder

 next year, you can still apply for the National Startup 

Competition 2023.

​

You must not have a revenue or funding above 2 million DKK
Program: 
​
15.30: 

Who

 is in the 

room

? 

​

15.45: 

What

 is Venture Cup National Startup 

Competition

​

Why

 

should

 

you

 join 

​

How do 

you

 join? (Open 

application

 for 

everyone

 & 3 

exclusive

 KU spots) 

​

16.00: Tips & tricks to a kick-

ass

 

application

 & pitch

​

16.15: Workshop with 1-1 feedback from business developers

​

17.00: Drinks & talks

​

17.20: 

Next

 steps for 

your

 startup:

​

Book a 1-1 business 

developmnet

 session for feedback

​

Apply

 to 

get

 

you

 

hands

 to the 

excusive

 spots (April 7th) or 

apply

 for the 

open 

application

 (May 1st)
What is National Startup Competition?
National Startup Competition Denmark's biggest university startup competition. Learn, compete and join an experience of a lifetime!

💰 Win 100.000 DKK in soft funding
💡 Get feedback on your startup from industry experts
🚀 Win 1:1 sessions with McKinsey + branding workshop with COPUS
🦄 Meet relevant investors at an early stage
🥂 Become part of an exclusive network!

Only a limited number of teams can access the competition through the open application. 
You can submit you application at www.venturecup.dk/nsc before the deadline 2nd of May.
Note that KU has 3 exclusive spots. If you get one of them you are guaranteed a spot in the competition. You can also join the open submission. 
#supportingfounders #NSC23 #nationalstartupcompetition