Global Health Case Challenge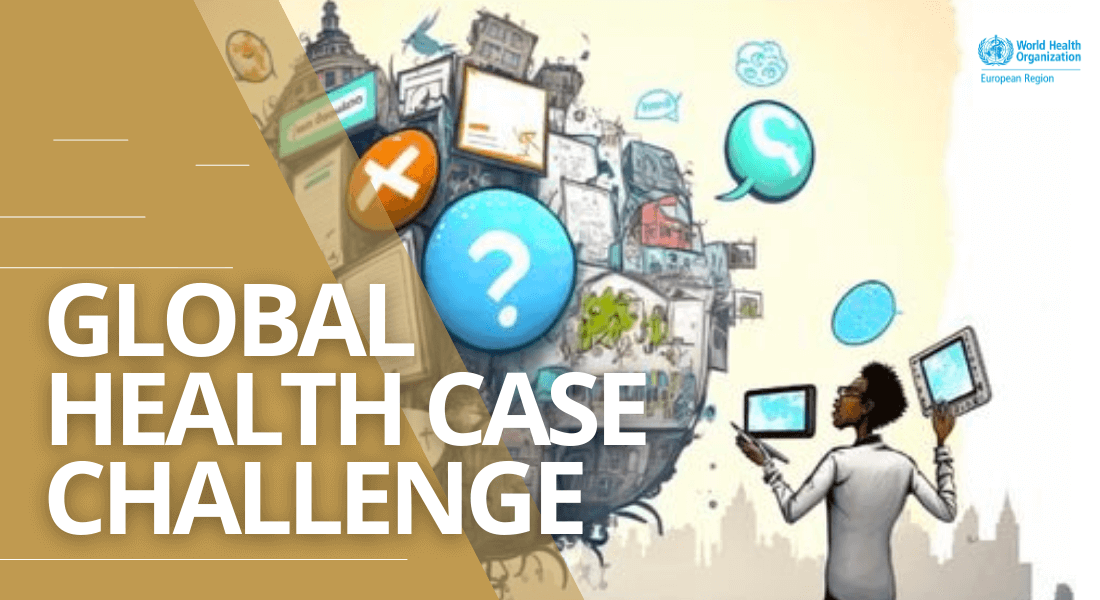 The Global Health Case Challenge is an innovation challenge designed to strengthen university students' problem-solving competencies and increase their engagement in real-world global health related issues. 
Through a combination of academic skills and innovative thinking, you will collaborate in multidisciplinary teams to come up with the best solution to how to tackle the challenges of infodemics. 
This year, the case provider is the World Health Organization's Regional Office for Europe and the case topic is infodemics – a global problem that affects all of us. How can we ensure good health in a future where we face great challenges of misinformation?
---
Why should you join? 
Meet new people and build a network across disciplines
Work with real life problems 
Get inspiration and learn new skills 
---
Who can join? 
The Global Health Case Challenge is open to university students from all disciplines. You normally participate in a team of four to five students. Students are expected to cover their own travel and accommodation costs. These will not be reimbursed.
Sign up before November 26

Register for the Global Health Case Challenge here.
---
Program
The program consists of an intensive 2 days design sprint where you work with an interdisciplinary team, meet WHO and dive into the case challenge to develop ideas and solitions for interventions. On the final day you pitch your solutions to WHO.
Saturday, December 9, 09.30-21.00: Case introduction with WHO, innovation methods, teamwork & inspirational talks

Sunday, December 10, 10.00-21.00: Teamwork, prototyping & pitch training
Monday, December 11, 16.00-20.00: Pitch session with WHO
---
The 2023 challenge: Infodemics - fighting a global challenge together

This year we dive into a serious challenge that affects us all - both locally and globally in communituies around the world. The World Health Organization has a strong focus on fighting misinformation about health. They need your input and ideas! 
According to WHO, an infodemic is too much information including false or misleading information in digital and physical environments during a disease outbreak. It causes confusion and risk-taking behaviours that can harm health. It also leads to mistrust in health authorities and undermines the public health response.
Many complex factors contribute to the creation of infodemics, and therefore the solutions to prevent and manage infodemics are more complex than a technological quick fix. Instead, we are looking for interventions that improves health literacy and help tackle trust erosion through educational and advocacy initiatives as well as co-creational solutions with communities that are vulnerable to mis- and dis-information.
Complex solutions call for students from many different backgrounds, and you will work together in your teams, using your different skills and competencies to develop ideas for how to face community concerns, promote better understanding of risk and health expert advice, build resilience to misinformation and new ways to empower communities to take positive action.
---
I greatly enjoyed taking part in a challenge; it was so nice to learn new practical skills while meeting really nice people in such a short amount of time. It was a great experience to put knowledge from my studies into action and we had a lot of fun working in the team!